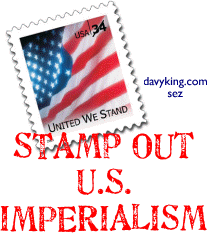 "doctor I see stars and stripes
in front of my eyes"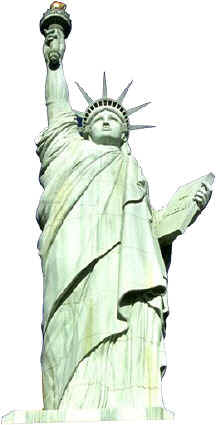 - satirical travels in New Mexico

- Country & Western/ Gospel?

Iraq Attaq

Torture Couture (latest U.S. fashions)
et passim
"those who are about to die

salute this flag

or colored rag"
*****
"We are all Americans now" (headline in Le Monde.)
And remember, it was also those reviled French who gave the U.S.A. their landmark Statue of Liberty! Now it's Americans who are taking Liberties with the rest of us...Sorry guys but you really should impeach that son of a Bush president of yours.
****
" From 1945 to 2005, the United States attempted to overthrow 50 governments, many of them democracies, and to crush 30 popular movements fighting tyrannical regimes. In the process, 25 countries were bombed, causing the loss of several million lives and the despair of millions more. (Thanks to William Blum's Rogue State, Common Courage Press, 2005)."
(John Pilger, The Death of Freedom, 6th Jan. 06)
***
"We are now as feared and hated all over the world as Nazis once were."
(Kurt Vonnegut, A Man Without a Country: A Memoir of Life in George W Bush's America, 2006)
**