IT'S MY DUTY TO INFORM YOU
THAT ANYTHING YOU SAY...
as I was out strolling
one fine day
I met a policeman
barring my way
he arrested me
for looking suspicious
I suspected he
was downright vicious
later at the station
it came to pass
he pulled down my trousers
and peered up my arse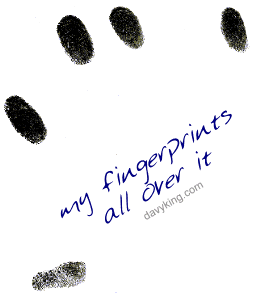 just then I farted
and he had to look twice
in case I was concealing
an explosive device
well there wasn't a timebomb
stashed up my bum
there weren't any drugs
tho the bugger hoped for some
what a crying shame it was
he had to set me free
I would have felt more wanted
as a public enemy
now I've become an outlaw
in rebellious defiance
if I get stopped and searched again
I'll shit my pants

'Stop & Search'?

'Met launches new 'sus' patrols'

Britain's biggest police force is to launch controversial new 'stop-and-search' patrols in the new year, despite concerns from many black leaders that they will lead to increased persecution of ethnic minorities. (Observer, 6 October 2002)
Britain becoming quasi Police State:

"LONDON (Reuters) - Police will be able to arrest anyone for any criminal offence, including minor misdemeanours such as dropping litter, under new laws which come into force on Sunday.

Until now police have had the power to arrest only those suspected of committing an offence carrying a sentence of at least five years in prison.

The new law requires only that the police have reasonable grounds for believing that a person's arrest is necessary. This can include a suspect's refusal to give their name and address.

The changes are part of the Serious and Organised Crime Act 2005, which removes the distinction between "arrestable" and "non-arrestable" offences."

(Reuters, ! January 2006)
"The terrorist & the policeman both come from the same basket"
(Joseph Conrad: The Secret Agent)