DAVY'S ON THE ROAD AGAIN...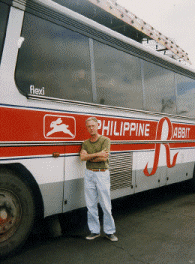 Greyhound?
RABBIT!
Geddit!
(Other Bus Lines include 'Baliwag
Buses' if you like silly names, &
'Byron Buses' for lovers of literature.
At Pasay City Bus Station, a notice, signed 'the Management',

advises passengers:

"No Deadly Weapons

allowed on coaches!"

That's reassuring, tho I wonder about illiterate psychopaths...

On the bus, I notice another sign, on the windscreen, next to the driver:

"Oh my God, help me to drive"

I may be in for the ride of my life...
Audio: The Passenger, Iggy Pop
[Embedded sound requires Internet Explorer]