In the news...
Britain becoming quasi Police State:
"LONDON (Reuters) - Police will be able to arrest anyone for any criminal offence, including minor misdemeanours such as dropping litter, under new laws which come into force on Sunday.
Until now police have had the power to arrest only those suspected of committing an offence carrying a sentence of at least five years in prison.
The new law requires only that the police have reasonable grounds for believing that a person's arrest is necessary. This can include a suspect's refusal to give their name and address.
The changes are part of the Serious and Organised Crime Act 2005, which removes the distinction between "arrestable" and "non-arrestable" offences."
(Reuters, !st January 2006)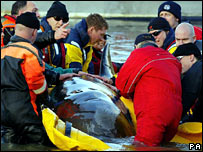 Whale dies in London, amid Media frenzy
(22 Jan. 06).
Many more die unmourned & unmentioned at the end of Japanese & Norwegian harpoons...