I have brought you to the threshold of life

And the fulness of living;

I leave you, now, with a sad unsure reluctance;

My heart torn with happiness at your lifeís fulfilling

And a sadness of nostalgic yearning for yesterday.

Life has been a pattern woven

Of flowers & sunshine

With interspersing rain.

Life has been the raw cold of Winterís weaving

And the bleak pain.

Yet I yearn for the years past.

With only the joy to remember & the hurt forgotten.

My recollections are

Of the gay days, the laughter days

Of the shared sweet innocence of childhood,

My prayer, now,

For the continuity of laughter days

In your life.

The calm & the quiet balm of happiness

You are poised on a pinnacle of love

To plunge to the future



(Found below holograph manuscript of above text next to my fatherís bed when he died. He had dashed the words off on a page, torn out of a cheap exercise book, yellowing with age)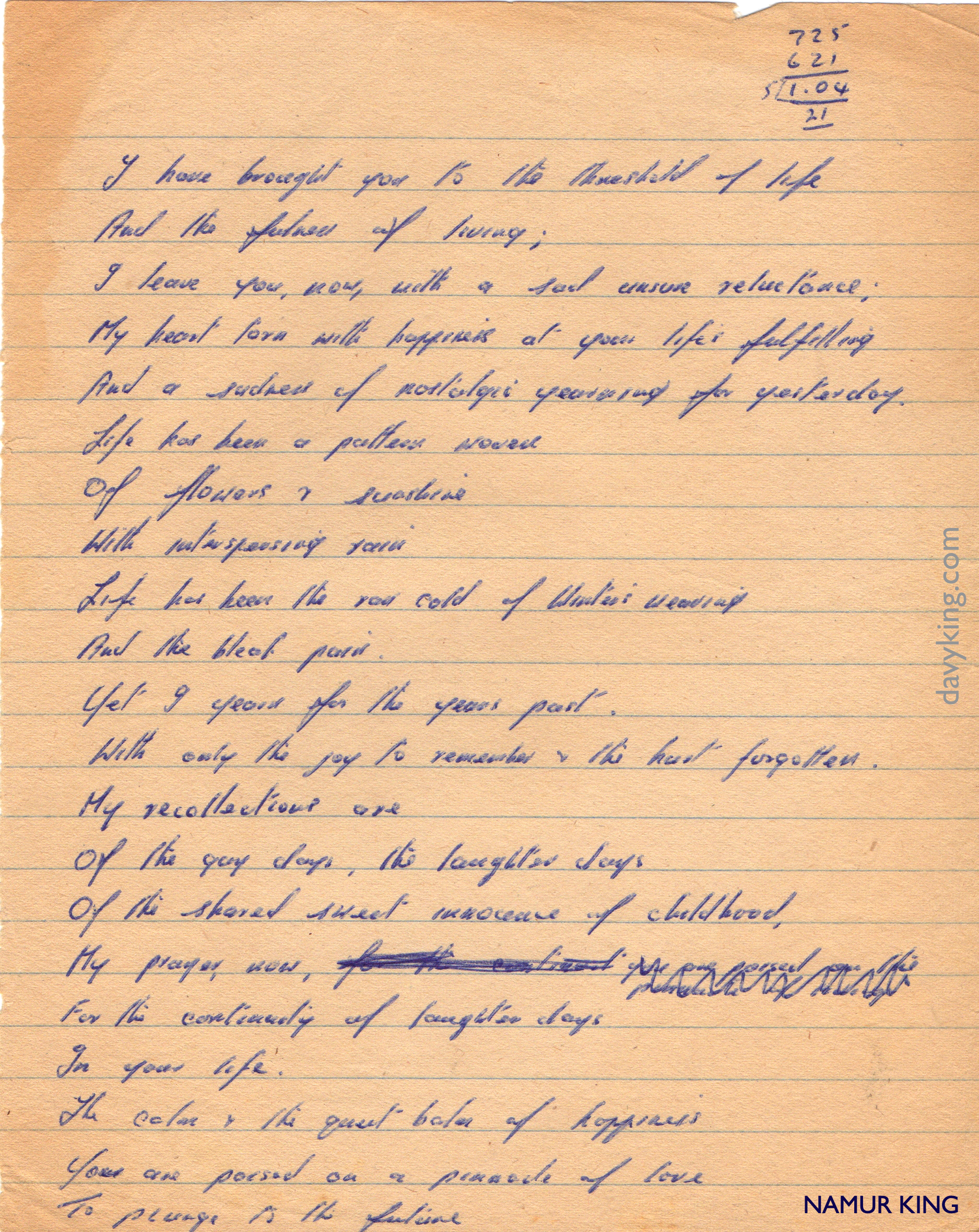 Note, at top of sheet, numerical calculation in "old" (pre-decimal) money, £s, shillings & pence. Meaningful & personally important to him at the time, but, devalued after death. You can't take it with you when you go, you know.
"Heart torn" - he died of a heart attack at age of only 53!
Lovely that he wrote that for me shortly before he died.
Other work by my Namur King:
St. Paul's (London May 11th 1941)
Ode To A Snowdrop During Wartime
Thoughts on the Immutability of Matter
Ode to the Full Moon during an ďAlertĒ, 1942
Ode to Goldie, the Golden Eagle on its 10th Day of Freedom
***

I make my work freely available to one & all. Share as you like, with an acknowledgement of course. If you find this page interesting, entertaining or useful (choose whatever epithet you think fits), please consider making a donation via PayPal here. It's safe & secure.

This entire large website has been a real labour of love by Yours Truly. I donít get paid & have to cover all running costs out of my own small pocket. Am in the proverbial starving (at least slightly peckish) artist in a garret situation. Give what you can. Thanks. Happy to gratefully name check any contributor, unless you prefer to be an anonymous donor.