A sad chronology of conquest & colonisation:
ˇ "1521 Magellan discovers the Philippine Islands March 15th , tries to subdue the native chief Lapulapu, wades ashore on Mactan April 24th with 48 men in full armour, and is killed in a skirmish with Mactan warriors. Only three of Magellan's original five ships have made the Pacific crossing, the other two have been lost, his men have come close to starvation, but survivors of the Mactan encounter sail on in two remaining ships to the Moluccas, or Spice Islands.
ˇ 1524 Maize grows in the Philippines where Magellan's men introduced the plant 2 years ago.
ˇ 1543 Spanish conquistador Ruy de Lopez Villalobos is driven out of the Philippine Islands by the natives a year after discovering the islands and giving them their name. He is captured by the Portuguese.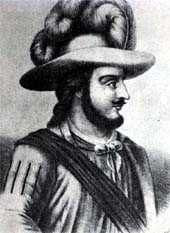 ˇ 1564 Miguel López de Legazpe, 54, leaves New Spain with four ships to colonize the Philippines.
ˇ 1565 A colony at Cebu in the Philippines is established by Miguel López de Legazpe, who has been sent out from New Spain by the viceroy Luis de Velasco on orders from Philip II , has conquered the islands for Philip and heads for home with a cargo of cinnamon.
ˇ 1571 Manila is founded May 19 by Miguel López de Legazpe. He has subjugated the Philippine natives and moves his capital from Cebu to the new city, using it as a base for colonization."
(Source: The People's Chronology, James Trager)
The rest, as they say, is history. The Spanish converted the natives to Catholicism (with its dubious gifts of guilt & Original Sin...& the promise of postmortem Salvation to keep them quiet) and bequeathed a legacy of Spanish surnames & place names (San Francisco, Santiago etc.) They stayed for 300 years, only to be replaced by the Americans, who ruled for another 50 years.